What's Google Maps
Google Maps is the most efficient way to find information about the whereabouts of any place or local business and get precise directions on how to get there. Needless to say, business visibility on Maps is essential not only for the online presence but for general customer accessibility and building up your reputation.
But does Google Maps actually have an impact on your local business? Could it help you scale-up? Would it increase your brand awareness? Keep on reading to find out.
Can Google Maps Visibility Affect My Business?
Google Maps is an online map, GPS, route tracker, and location service. It is also a powerful but highly underrated marketing tool. Think about it. Maps organically promotes your business to potential clients interested in your type of service/products. And you don't even have to pay for it. 
The major role of Google Maps is to navigate users to your business' physical location(s). But once you appear as a result, the user has access to a lot more than just your address. They can view additional details like contact information, working hours, products, price list, photos, videos, etc. 
Most importantly, the user is able to see the direct feedback of your clients. So every time you get found, Maps provides fast access to customer reviews and displays the total review score right under your brand's name. 
Indeed, Google Maps has a huge impact on how people perceive and access your business. Based on the opinions of other customers, they can be psychologically affected on whether or not they would use your service or buy your products. Having a low number of reviews is almost as bad as having only negative ones.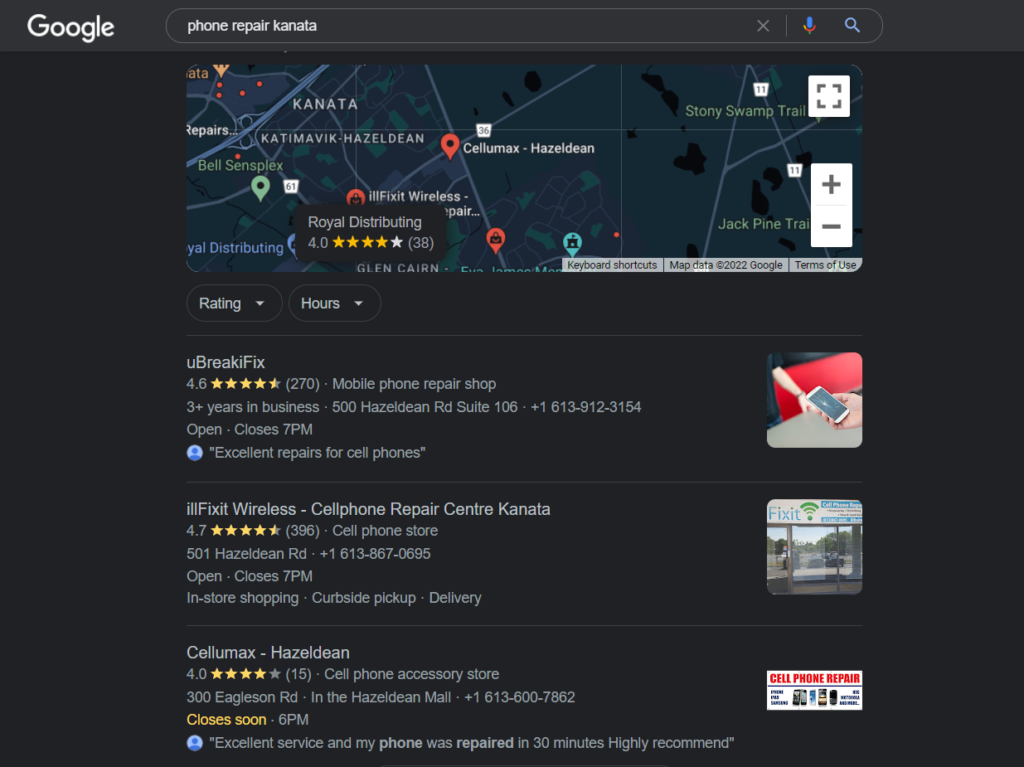 What is Google 'Near me' and How Does it Work?
"Near me" is one of the most used features on Google Maps. It's accessible, easy to use and allows users to conduct detailed brand or service field searches around a specific area. 
Accessing the feature 
There are two ways to access the feature and improve your Maps results:
Via a selection of current location
When a user clicks on his location pin on the digital map, he can ask Google for recommendations on nearby places. For desktop, there is a dropdown menu that falls on right-click. On mobile – on a second click over the pin appears a blue pop-up window that gives you the opportunity to "See nearby places".  
Whenever a user is manually searching for a specific type of business or a brand, he can just add "near me" after the targeted words on the search field. For example, if need to find a dentist in your area, all you need to do is type "Dental offices near me" on the Maps search. All Google enlisted dental care facilities nearby would appear both as a structured list & displayed on the map, marked in red pins.
Ranking factors
Google's 'Near me' display order depends on three major ranking factors: relevance, distance, reputation. Your type of business needs to be relevant for the specific user search. It also has to be situated close to the location of the potential client. 
And last, reputation is the most important factor to appear on the Google Maps result list before your competitors. Be aware that Google prioritizes claimed businesses with a high number of authentic positive reviews.
How to Improve My Google Maps Ranking?
Update Google My Business Profile
Having full control over the type of content displayed to customers is crucial. Therefore, you have to make sure you've enlisted or claimed the "Google My Business" profile of your brand. This is where all reviews, contact details and information about your service are displayed. 
Update all your "Google My Business" details properly and include as much helpful information as possible, so clients can discover you on Search and Maps. Always upload high-definition pictures and videos, provide accurate prices and working hours, and keep your contact info up to date.
Collect authentic reviews
More reviews and higher star ratings are keys to a successful online presence. No matter how hard you work on your SEO and content quality, Google needs authentic reviews to rank you higher than your competitors. 
Sometimes getting honest feedback from customers is harder than it has to be. The process of manually asking for reviews and recommendations is long and requires extra time, patience, and persistence… 
What if we tell you that Staello can help you rank higher on Google Maps by optimizing the process of getting reviews?

Staello is an advanced service for fully-automated review management. The Review generation tool allows you to directly connect with your customers and receive instant feedback from them. Time to outshine your competitors and get recognized. With Staello your clients are a click away and getting reviews is a piece of cake. 
Are you ready to improve your ranking? 
We're here to help you stand out. Send us a message: contact@staello.com or just call (844) 782-3556